In the wake of my 7th anniversary with PepsiCo, the present I'm giving myself is gratitude. Gratitude for the people who have shaped my path. For the trials and tribulations that inadvertently guided me to where I am today. And for what's to come.
---
Last week, as I was sipping my coffee having just gotten settled at the office, I felt a rush of gratitude overwhelm me. I suddenly became hyper-aware of the people, the environment, and the energy around me. The steadfast clickity-clack of a keyboard from a fellow cubemate. The casual chitchat a few rows down laced with comforting laughter. The linear tempo of Fred's footsteps trotting down the hallway. Even the haptic familiarity of my beloved office chair.
I realized that this office has been my home for the past 7 years.
I felt warm and fuzzy. My mind whizzed back to my first week on the job, when I stepped through those glass doors for the first time as a bright-eyed, bushy-tailed intern. I recall sitting quite far away from the marketing team, closer to HR (because that's where all the interns were housed at the time). I was oblivious that my desk was a stone's throw away from our then-President's office, and it took me at least 6 weeks before I would recognize this man with a kind yet stern demeanor. I had a map of our office pinned to my cubical wall, and made sure to leave at least 5 minutes of buffer before every meeting so I could locate the room. Countless airplanes would take off from Toronto Pearson airport, which became my daily view when I zoned out into space.
Gradually, I fell into a rhythm that became the prelude to a lasting career.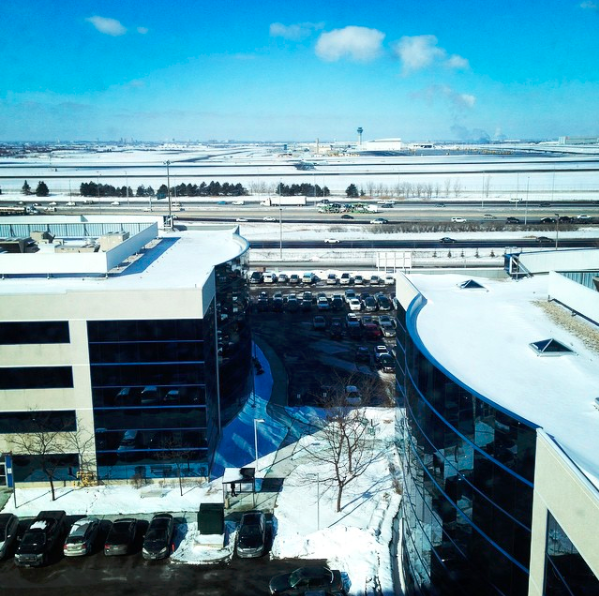 But I didn't always feel so much gratitude for where my life was seemingly going. At the beginning of my 4th year in university, I was caught in the whirlwind that was full-time recruiting season. Being a student on the West coast meant my chances were automatically slashed by 50% from geography alone, as most of my dream companies operated their Canadian HQ's out of Toronto. They can hire all of the top talent they need within a small radius, so why would they bend over backwards to find talent from 4 provinces away? Like many others, I also worked part-time throughout my 4 years of undergrad to pay for my tuition. At certain times, I remember holding 3 to 4 part-time jobs at a time to make ends meet. While I wouldn't have traded those experiences for anything, it did mean that I could not afford the luxury of an unpaid or low-paying internship more relevant to marketing.
Unfortunately, with all of those factors working against me, I stubbornly still chose to be picky with where I submitted job apps. Having put my eggs in so few baskets makes me cringe to this day. I had just finished participating UBC Sauder's Brand Management Mentorship Program, and was keen on consumer packaged goods (CPG) as a launch pad for my career. Sadly, I faced rejection from every CPG firm that I interviewed with (I think 5 or 6). Many of them didn't see enough potential in me to grant me a 2nd interview! In a particularly memorable one, a recruiter for a large, iconic Canadian CPG surprised me at 7:30am PST on a Wednesday for an unscheduled "phone chat". Still half-asleep, I had just put in one contact lens on my right eye. For the next 30 minutes, I teetered on my vanity stool with partially blurry vision while struggling to appear sharp and alert. Needless to say, I didn't get the job.
Having struck out so many times, I was forced to broaden my search. I attended an info session from the now-defunct Target Canada in late September, who had just begun their mass hiring spree to prepare for their big launch. Although there were no marketing positions available, I applied to an entry-level business analyst role anyway. My hope was that the adjacency of retailer experience would one day allow me to pivot back into CPG marketing. The recruiter, Jen, was extremely friendly and gave me a great first impression of the company culture. After a few short rounds of behavioural interviews, I received an offer! Relief washed over me and cleansed the fear of impending unemployment away. Gratitude.
Fast forward a few weeks, a random acquaintance, Chris, messaged me on Facebook one day, asking if I wanted to join a marketing competition together called Canada's Next Top Ad Exec. Most people applied as pairs, and the prize was a CAR (yes, an actual car!!). I Googled the competition name because that's how much I knew about it. There were several rounds we had to pass through, with an ultimate in-person presentation in Toronto in front a panel of 30+ industry judges. Being in Vancouver at the time, the Toronto round was a distant yet enticing prize in and of itself. Chris was practically a stranger to me, as we had met only once through a mutual friend. But with a job in hand, I was feeling bold and wanted a challenge before university ended, so I agreed. Little did I know, this decision would dramatically alter the course of my career.
For the next few months, Top Ad consumed our lives and any free time we had from the moment we submitted our 2-page proposal in January. I saw Chris more than I saw my family. We got to know each other and despite our polar-opposite personalities, made a pretty good team. Countless all-day strategy sessions at the David Lam Library and too many fast food takeouts later, we got the call – we made it to Toronto! Gratitude.
A huge benefit of making the final round was the chance to interview for internships with sponsoring companies, such as Canadian Tire, General Motors, and PepsiCo. Having secured the Target job that would start in the Fall, I didn't even consider the golden opportunity (doh!). But Chris, being his convincing self, argued that in the worst case, it would be a good chance to get interview practice and learn more about other companies. In the best case, I could land my dream job. Still a little unsure, I submitted my application for a PepsiCo internship 5 minutes before the deadline.
Chris was right. Through no small miracle and perhaps the effort of all the stars in the universe aligning at once, PepsiCo (specifically Jackie and Haneen, my interviewers) decided to take a chance on me. The problem was, I only had one day to decide. Originally, I had intended to travel abroad during the summer and visit as many countries as I could before starting my new gig at Target. Would I give that up for a chance to work at my dream company? Of course I would. But it did take a nudge from Professor Malik, the mastermind behind Top Ad, to set me in the right direction. Gratitude.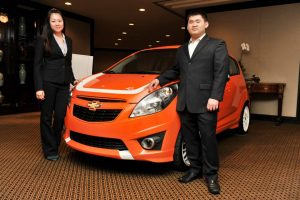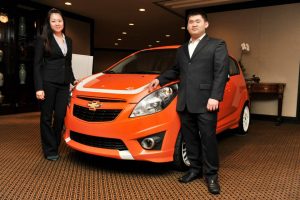 Haphazardly, my career had launched. Not a linear path by any means, but it makes for a better story anyways. In case you were wondering, we did not win a car. But Chris and I became best friends, and we both landed internships that effectively jump-started our careers. We made invaluable friendships through the participants and organizing committee. Gratitude.
Ultimately, I loved it so much at my PepsiCo internship that I knew I needed to stay. I was only scratching the surface of this behemoth and there was so much to learn. I mustered all my courage to call Jen to tell her my change in heart. I had to renege on Target. To my surprise, she was absolutely gracious and stressed that it's important I figure out what's best for my career. I don't remember the exact words she used, but I do remember how she made me feel – grateful.
7 years later, I'm staring out the window, watching the airplanes go by. But if there's one thing I learned, it's that "being is becoming". Just as I sank comfortably into my chair, something compelled me to get up…
[to be continued]